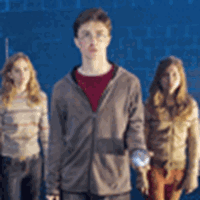 Hermione, Harry & Ginny
New batch of images from 'OotP'
March 29, 2007 at 7:58 PM ET
Geri HPANA (via Warner Bros.)

harry potter and the order of the phoenix movie, order of the phoenix movie, ootp movie
---
With the Harry Potter and the Order of the Phoenix movie set for release in a little over three months, Warner Bros. has sent us some pictures featuring Harry, Ron, Hermione, Ginny, Cho, Lucius Malfoy, some members of the Dumbledore's Army, Prof. Umbridge and more. These images will appear in this week's issue of Entertainment Weekly

, on sale Friday.
View the new photos in high-resolution right here

in our gallery.
Thanks to TLC

for letting us know that the Insider

has a brief synopsis of what will be included in this week's edition of EW which will include three different covers of Harry, Ron and Hermione:
The new issue includes a Harry Potter Pop Culture Quiz with 50 questions that will challenge even faithful muggles, and a six-page Potter feature revealing an exclusive peek at the new movie's main players. Teasers about J.K. ROWLING's seventh and final book, Harry Potter and the Deathly Hallows, are also inside.
Harry Potter and the Order of the Phoenix hits theaters on July 13.