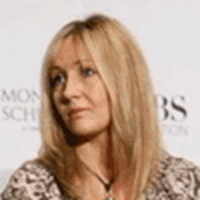 JK Rowling
JK up for 'Women of Influence' award, Forbes envy list
March 7, 2007 at 9:21 AM ET
Geri HPANA

jk rowling, jkr, jo rowling
---
Harry Potter author, JK Rowling, has been selected

as one of Scotland's most influential woman. The NCH Scotland 'Women of Influence' award

recognizes those who have worked hard to improve the lifestyles and education of children.
Joining Ms. Rowling are world champion athlete and Olympic silver medalist Liz McColgan, Scottish Youth Theatre chief Mary McCluskey, Catherine Lockerbie, director of the Edinburgh International Book Festival, and Professor Christine Hallet.
In other Rowling news, JK is included on Forbes 'Billionaire Women We Envy' list

, which includes only one additional woman from the entertainment field, Oprah Winfrey.
According to Forbes:
Then there is J.K. Rowling, once a single mother living on welfare in a coldwater flat in Edinburgh, Scotland. She penned a magical story about a wizard named Harry Potter, which turned into a media empire with six books (a seventh, the final installment, is due in July), four movies and countless other items. To date, worldwide book sales have surpassed 325 million copies. Rowling is now the only novelist among the world's wealthiest.
You can read more about the world's billionaires here

, where JK Rowling is the only woman from Britain.
Thanks to the Snitch

for the news.