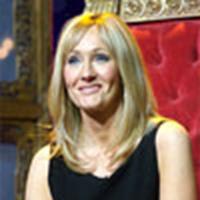 JK Rowling
JK sues eBay over pirate books
February 25, 2007 at 10:33 PM ET
Geri HPANA (via The Times)

jk rowling, jo rowling, jkr, j.k. rowling
---
J.K. Rowling, author of the Harry Potter books, has sued

the web site eBay for the sale of illegal electronic copies of her books in India.
According to Neil Blair, Rowling's legal adviser at the Christopher Little Literary Agency:
Over the years eBay has appeared to be unwilling to control sellers on their site offering pirated or forged Harry Potter items for sale to innocent fans. We have asked eBay on numerous occasions to assist by taking preventative steps to avoid these sales - steps that we are aware they can introduce. As these requests were not heeded we had no choice but to seek judicial intervention.
J. K. Rowling has previously warned fans on her own website about the sale of fake signed books and other pirated Harry Potter e-books on eBay.
As recently as January JKR posted a warning on her site about illegal versions of the books and has stated on numerous occasions that her books are not available for download.
She has also warned fans about the number of fraudulently autographed and unauthorized items that have appeared for sale on eBay. We also reported back in February that no e-book version of Deathly Hallows would be published as this helps with the "growing incidents of piracy."
UPDATE: Today eBay India denied

JK's claims that they have done anything wrong.