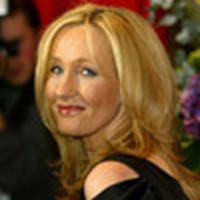 JK Rowling
JK one of entertainment's richest women
January 18, 2007 at 8:01 AM ET
Geri HPANA (via Forbes.com)

jkr, jk rowling, jo rowling
---
JK Rowling, who is currently working on the last book in the Harry Potter series, has been named

on Forbes '20 Richest Women in Entertainment.' Ms. Rowling, at the number two spot, follows Oprah Winfrey with Martha Stewart, Madonna and Celine Dion rounding out the top five.
According to Forbes:
The one-time single mom on welfare is the brains behind Harry Potter, one of the most successful book franchises in history. The sixth installment, Harry Potter and the Half-Blood Prince, was the fastest-selling book in history, according to Guinness World Records. The film series--from which Rowling enjoys a cut of royalties and merchandising--has also proven astoundingly successful, with the total gross for the four films already released topping $3.5 billion. Rowling is the only career author on Forbes' Billionaires list.
The list

includes:
1. Oprah Winfrey
2. J.K. Rowling
3. Martha Stewart
4. Madonna
5. Celine Dion
6. Mariah Carey
7. Janet Jackson
8. Julia Roberts
9. Jennifer Lopez
10. Jennifer Aniston
11. The Olsen Twins
12. Britney Spears
13. Judge Judy
14. Sandra Bullock
15. Cameron Diaz
16. Gisele Bundchen
17. Ellen DeGeneres
18. Nicole Kidman
19. Christina Aguilera
20. Renee Zellweger
On January 20th E! Entertainment will feature a one-hour special on these women at 6 p.m. EST. Check your local listings.
UPDATE: You can download the video featuring JK here

(please remember to right-click and save target as...).