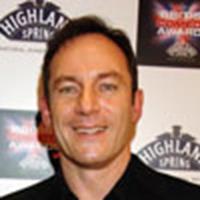 Jason Isaacs
Isaacs discusses 'Phoenix' filming & begging JK
January 11, 2007 at 9:04 AM ET
Geri Yahoo! News (via Sci Fi Wire)

jason isaacs, harry potter and the order of the phoenix movie, order of the phoenix movie
---
To follow up on another interview that Jason Isaacs did back in November

, he recently elaborated

on filming his scenes with Gary Oldman for Harry Potter and the Order of the Phoenix:
I get to have a wand battle with Gary Oldman, possibly my favorite actor in the universe. We get to play around like two 10 year olds. And with kind of unlimited sci-fi imagination. It's fun. We just go, 'Well, how about if I ... .' And anything you finish that sentence with, they go, 'Yeah, OK. You can do that.' So it was magnificent.
He also jokingly mentions begging author, JK Rowling, to add his character to the last book as well as ideas on his character:
I fell to my knees and begged. It didn't do any good. I'm sure she doesn't need plot ideas from me. But I made my point. We'll see. Like everybody else, I'm holding my breath to July to see what's in there. I just want to bust out of prison, that's all. I don't want to stay in Azkaban most of my life.
The Harry Potter and the Order of the Phoenix movies opens on July 13.