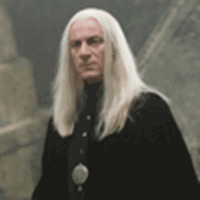 Jason Isaacs as Lucius Malfoy
Jason Isaacs discusses 'Phoenix' & wanting to return
November 8, 2006 at 12:38 PM ET
Geri Wizard News (via HP Sorcery)

jason isaacs, harry potter and the order of the phoenix movie, order of the phoenix movie
---
In a video of an interview from this morning on UK television, Jason Isaacs (Lucius Malfoy) from the Harry Potter movies, discussed his character in the latest movie, Harry Potter and the Order of the Phoenix, which he has finished filming.
He mentions fighting Gary Oldman (Sirius Black) in the Ministry of Magic scenes and how he won't be starring in Half-Blood Prince but begged author J.K. Rowling to let Lucius out of prison so he can make an appearance in the last film.
You can watch the video here

.