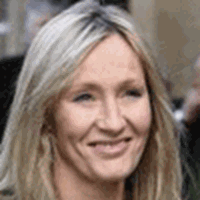 JK Rowling
'HBP' voted one of Scotland's favorite children's books
November 28, 2006 at 10:52 AM ET
Geri HPANA

jk rowling, jo rowling, jkr, book 6, harry potter and the half-blood prince, half-blood prince, hbp
---
Children in Scotland recently voted

on their favorite Scottish books and JK Rowling's Harry Potter and the Half-Blood Prince came in first in the 8-12 years category. Ms. Rowling previously won the award in 2001 for Harry Potter and the Goblet of Fire.
While Ms. Rowling was not present at the award ceremony she did write a speech that was read

by her editor:
Thank you so much for this award. I'm sure any writer will agree that it's always reassuring to receive recognition for your work, but it's particularly meaningful when the decision has been made by the readers themselves.
To them, I'm enormously grateful and delighted that Harry Potter continues to give so much pleasure.
I'm sorry I am unable to receive this award in person today, but I currently have my head down writing the final book, which is coming along nicely.
Thanks to Wizard News

& everyone for the emails.