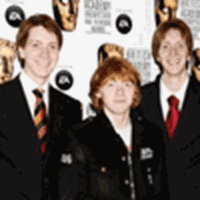 Rupert Grint & Phelps twins
Grint & Phelps twins attend Kids BAFTA's, 'GoF' wins
November 26, 2006 at 5:49 PM ET
Geri RupertGrint.net

james phelps, oliver phelps, rupert grint, harry potter and the goblet of fire movie, goblet of fire movie, gof movie
---
Last month we let you know

that Harry Potter and the Goblet of Fire had been nominated for two awards at this years children's BAFTA's. Tonight the awards were given out in London and Rupert Grint and Oliver and James Phelps attended.
Goblet of Fire won

the award in the "public award" category for 'Favorite Film' of the year with over 100,000 children voting. You can view some images and video here

.
UPDATE: You can see additional images here

.