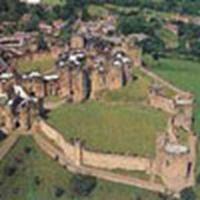 Alnwick Castle
HP Fan Trips announces 2007 tours, VIP 'Phoenix' screening
October 24, 2006 at 10:41 AM ET
Geri HPANA

hp fan trips, harry potter tour, harry potter london, britain tour, uk tour
---
This past July fans of Harry Potter from around the world participated in the third annual HP Fan Trips, enjoying a trip on the Hogwarts Express and participating in an exclusive gala event at Edinburgh Castle. Next year's itinerary has just been announced and will include new locations where scenes from Order of the Phoenix were filmed. There will also be a VIP screening of the movie the week it is released in Edinburgh.
HP Fan Trips announces 2007 tours, VIP Order of the Phoenix screening
October 24, 2006 -- HP Fan Trips

announced today its 2007 summer Harry Potter tour packages designed by fans, for fans. Finely tuned and sporting exciting new additions, the group has demonstrated its success over the last four years at hosting the most comprehensive, fan-centric Potter tour on the market.
The 2007 packages, open to all fans worldwide, adds exciting new locations and activities as suggested by fans, guides and staff. "We've consistently been blown away by the response to these trips, and have taken every suggestion for improvement to heart," said Jeff Guillaume, one of HP Fan Trips' organizers and webmaster of award-winning Harry Potter fan site HPANA.com. "For 2007, these already amazing tours have been made even better by adding new elements from the filming of Harry Potter and the Order of the Phoenix. It definitely reflects our ongoing commitment to be the premiere Harry Potter 'fan experience' tour."
Colorado tour company Beyond Boundaries Travel

will once again whisk hundreds of fans into the very heart of JK Rowling's phenomenal series. A staple of HP Fan Trips is an exclusive ride on vintage steam locomotive #5972 Olton Hall, the very train used by Warner Bros. as the official "Hogwarts Express" in the Potter films.
The various itineraries feature visits to London, Oxford, Alnwick, The Highlands and Edinburgh. Two nights in the Highlands are included, where many backdrops for Harry Potter and the Goblet of Fire were filmed. A built-in flight from London to Inverness shortens travel time and allows for a visit to Loch Ness, a must-see for most visitors to the region.
HP Fan Trips in the summer of 2007 will coincide with the theatrical release of Harry Potter and the Order of the Phoenix, as it continues to offer an unsurpassed glimpse into the fantasy and real-world elements of Harry Potter for the fourth straight year. Highlights include a VIP movie screening, an exclusive magical banquet and party at Edinburgh Castle, and the use of the entire hotel used by cast and crew in Glencoe (the Highlands) while they were shooting Goblet of Fire. Fans can even take part in an exciting drawing for the chance to stay in the actual rooms used by Dan Radcliffe (Harry Potter), Rupert Grint (Ron Weasley), Emma Watson (Hermione Granger) and Tom Felton (Draco Malfoy).
The tours are open to all Harry Potter fans worldwide and include separate, specialized packages for families, teens and adults.
"We go to locations in London, Oxford and Scotland that appear in the films," said Guillaume. "But we also give fans a chance to experience the very real connection to British culture that influences JK Rowling's stories by exploring the United Kingdom and its history."
Top international Harry Potter fan sites have offered their support for this unique experience, including the Harry Potter Automatic News Aggregator (HPANA), MuggleNet

, DanRadcliffe.com

, FictionAlley

, Harry Potter Fan Zone

and others. The web sites for these organizations have loyal readers in more than 83 countries with over 45,000,000 hits per month.
About HP Fan Trips
HP Fan Trips debuted in June 2004 after a year of planning by Jeannie Barresi of Beyond Boundaries Travel; Jeff Guillaume, a 26-year-old programmer and creator of Harry Potter news site HPANA.com; and Heidi Tandy, an intellectual property lawyer and co-founder of fan site FictionAlley.org. HP Fan Trips has since been featured in the New York Times, CNN, Frommer's, Fodors, New Zealand Herald, Malaysian Star and other international media.
About Beyond Boundaries Travel
Since 1991, Beyond Boundaries Travel has designed special interest group travel. It is an international tour company working with fandom web sites, The History Channel, the World Bank, the United Nations, the National Institutes of Health and other organizations. Beyond Boundaries works with a wide variety of suppliers to create uniquely themed experiences for their exceptional clients.
MEDIA INQUIRIES: Jeannie Barresi
TEL: +1 800-487-1136 (U.S.)
TRIP INQUIRIES: Contact online http://www.hpfantrips.com/contact/

WEBMASTERS:
By supporting and promoting this year's tours (absolutely free), we will happily link back to your site as a way of saying thanks. Plus, by referring 25 people, you get a free trip valued at up to $2,800! Go to here

for instructions. Be sure to check out the totally revamped HP Fan Trips web site!