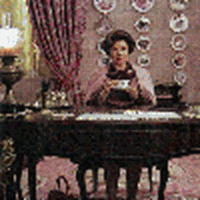 Umbridge having tea
New 'Phoenix' photos from Newsweek
September 25, 2006 at 5:01 PM ET
Geri HPANA (via Newsweek)

harry potter and the order of the phoenix, order of the phoenix
---
To add to our news post from yesterday on the interview with Emma Watson in Newsweek, we have a scan of the article which contains new photos from the set of Harry Potter and the Order of the Phoenix.
The new

images show Dumbledore's Army, a new picture of Ron, Harry and Hermione and last but not least, a picture of Prof. Umbridge having tea in her very pink room.
UPDATE: Warner Bros. has just sent us the hi-res versions of these pictures.