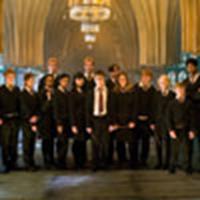 Dumbledore's Army
Hi-res images from 'Phoenix'
September 25, 2006 at 6:08 PM ET
Geri HPANA

harry potter and the order of the phoenix movie, order of the phoenix movie
---
Thanks to Warner Bros. for sending over the hi-res versions of the images that have surfaced this weekend from Harry Potter and the Order of the Phoenix.
The images, five in total, show Harry fending off the Dementors; the sacking of Trelawney; Dumbledore's Army; Umbridge in her pink office and the trio (Ron, Harry and Hermione).
For everyone who wants to know, the actors in Dumbledore's Army are (from left to right): Ryan Nelson as Slightly Creepy Boy, Nick Shrim as Somewhat Doubtful Boy, Bonnie Wright as Ginny Weasley, Shefali Chowdhury as Parvati Patil, Oliver Phelps as George Weasley, Afhan Azad as Padma Patil, Katie Leung as Cho Chang, James Phelps as Fred Weasley, Daniel Radcliff as Harry Potter, Matthew Lewis as Neville Longbottom, Emma Watson as Hermione Granger, Rupert Grint as Ron Weasley, Evanna Lynch as Luna Lovegood, William Melling as Nigel and Alfred Enoch as Dean Thomas.
You can view the pictures here

.