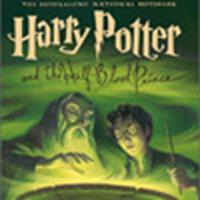 'Half-Blood Prince'
'HBP' paperback out today in North America
July 25, 2006 at 7:20 AM ET
Geri Yahoo! News (via USA Today)

---
Two million paperback versions of Harry Potter and the Half-Blood Prince are set to go on sale today

in North America. The book will cost $9.99 and is certain to be a best seller.
Previous releases of the paperback versions have reached the No. 1 spot and actually spent more time at that spot than the original hardcover versions.
On a side note, the The Kids and Family Reading Report, released by Yankelovich and Scholastic found that

:
...both kids and their parents credit the popular books with getting more kids to read for fun and with helping kids do better in school. Just over half (51%) of Harry Potter readers ages 5-17 years old say they did not read books for fun before they started reading Harry Potter, but now they do, and 65% say they have been doing better in school since they started reading the series. Parents see an even greater impact. The vast majority of parents (89%) say that reading Harry Potter has helped their child enjoy reading more, and 76% say that reading Harry Potter has helped their child do better in school.
Yankelovich

is a leader in consumer trends tracking and Scholastic

, is a children's publishing, education and media company which publishes the Harry Potter series in America.