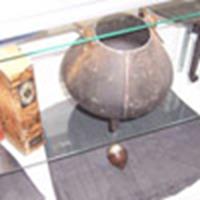 'Potter' props at Comic-Con
Photos & video from Comic-Con
July 24, 2006 at 3:00 PM ET
Geri HPANA (via Various)

harry potter and the order of the phoenix, order of the phoenix, dan radcliffe, daniel radcliffe, david yates
---
Last Saturday we posted details of the video shown of Dan Radcliffe and David Yates at this year's Comic-Con in San Diego. While the video didn't show any footage from Harry Potter and the Order of the Phoenix a quick picture of the video showing Dan and David is now available here

.
You can also see some pictures here

and a video here of Harry Potter movie props on exhibition at Comic-Con.
Thanks to TLC

and MN

for the photos and video.
UPDATE: Some additional

information has surfaced about the video shown at Comic-Con:
Daniel talked about working on this film, "It's fantastic; it's such a blast being on set." David gave out some info about Professor Umbridge, played by Imelda Staunton. "She's a cross between Doris Day and Freddy Krueger," he said. They're also going to add some new creatures for this fifth version of the Harry Potter series; "We're also bringing in these half-men/half-horse characters to the mix, that are wonderful."