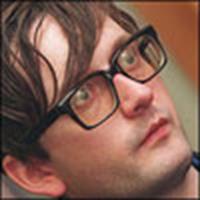 Jarvis Cocker
Canadian Wyrd Sisters ordered to pay WB $140,000
July 1, 2006 at 10:50 AM ET
Cheeser Moreover (via National Post)

jarvis cocker, franz ferdinand, weird sisters, wyrd sisters, harry potter and the goblet of fire
---
Winnipeg, Canada-based folk band Wyrd Sisters has been ordered

to pay Warner Bros. $140,000 in legal costs stemming from the group's 2005 lawsuit aimed at preventing the release of Harry Potter and the Goblet of Fire because the movie contained a pretend band of similar name.
HPANA has learned through a confidential source involved with the case that Jarvis Cocker (the real-life musician who was the lead singer of Potter's "Weird Sisters") desired to release an entire album of songs with different collaborators, including Franz Ferdinand, Jack White and Iggy Pop. (The band Franz Ferdinand was once rumored to be the movie-version Weird Sisters.)
Cocker also planned music videos and singles, all of which had to be pulled due to the lawsuit. The whole debacle created so much tension that Cocker was escorted down the red carpet premiere in London to avoid reporters' questions on the subject.
(On a semi-related note, this great interview

with Daniel Radcliffe may have been missed in the hooplah surrounding Goblet of Fire's release in November 2005. It's all about Dan's musical tastes and mentions both Cocker and Franz Ferdinand.)
UPDATE: The Wyrd Sisters are appealing

this ruling and will continue on with their $40 million lawsuit against Warner Bros.