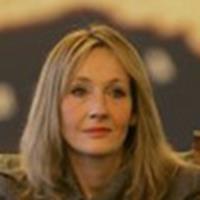 JK Rowling
Rowling gives thanks on behalf of children
June 27, 2006 at 8:14 PM ET
Geri The Leaky Cauldron

jk rowling, jo rowling, jkr, childrens high level group, chlg
---
In January, JK Rowling visited Romania to highlight the launch

of the Children's High Level Group and the work they do to help children in Eastern European 'care homes.' She recently wrote

an article to thank the many people who contributed to their cause, which raised over £100,000, explaining how the funds helped and what more can be done.
Ms. Rowling also announced the launch of CHLG's awareness campaign's web site

, and ended her article by writing:
I cannot thank you enough for the money you have already donated, for your letters and continued support. These children are in desperate need of protection.
Together, we can change the lives of tens of thousands of children across Europe by ending practices such as cage beds, keeping as many children as we can out of institutions and ensuring as many as possible are raised by families who love them.