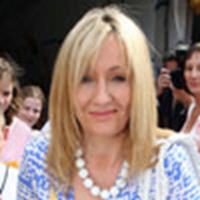 JK Rowling
Video, pictures of 'Potter' stars at Queen's birthday party
June 25, 2006 at 3:32 PM ET
Geri HPANA (via Various)

daniel radcliffe, dan radcliffe, emma watson, rupert grint, matthew lewis, jk rowling, jkr, jo rowling
---
The Children's Party

to celebrate Queen Elizabeth's 80th birthday took place today and in attendance were author JK Rowling and actors Rupert Grint and Matthew Lewis. While Jo read from Harry Potter and the Half-Blood Prince, a video featuring Dan, Rupert, Emma and Matthew was shown as part of the skit for the search for the Queen's handbag.
CBBC Newsround has a brief

report of the event:
Harry Potter author JK Rowling was among one of the first celebrities to make her way into the garden and later read from The Half-Blood Prince.
You can view the video here

of the Potter skit courtesy of DR.com

and here

courtesy of DR.co.uk

. You can read a transcript

of the video courtesy of SnitchSeeker

.
Additional video of the event can been seen here

courtesy of MuggleNet

.
Pictures can be viewed here

, more will be added when they become available.
UPDATE: Thanks to MuggleNet you can see a picture here

of Emma and Rupert sitting in front of the Queen.
UPDATE II: JK Rowling commented

from the event that she is sad that the Harry Potter saga is coming to an end and when pressed for a publication date for the last book said:
I'm doing well I think. You can never really tell till you get near the end. I am not quite there yet.
UPDATE: III CBBC Newsround aired a report from the Queen's 80th birthday celebrations, which featured a brief interview with authors Jacqueline Wilson (who praised Harry Potter) and J.K.Rowling. The report

can be viewed in Real Player (go to the link and launch Newsround Player, then choose the Monday, June 26 selection) which is about 2 minutes and 45 seconds in, you will also catch a brief shot of Rupert, Matthew and Emma signing autographs for fans. Thanks to SnitchSeeker

for the link.