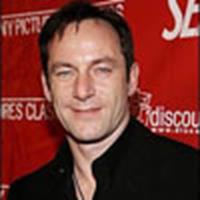 Jason Isaacs
Isaacs starts filming 'Phoenix' in September
June 22, 2006 at 9:02 AM ET
Geri Yahoo! News (via Los Angeles Daily News)

harry potter and the order of the phoenix, order of the phoenix, jason isaacs
---
Jason Isaacs is scheduled to reprise

the role of Lucius Malfoy in Harry Potter and the Order of the Phoenix with filming for his character to start in September.
Jason commented on filming the movie:
My bit is in September and October. It's a big blue-screen battle for a lot of it so that will be a laugh. We always have to sign these incredible confidentiality clauses where we offer up our children's eyeballs if we ever break them. I've never quite understood since they're the most popular books on the planet, but anyway, I think I'm involved in the big battle.
I torture myself by always trying to be interesting and human on screen, but every now and again it's great to be in Harry Potter and just rip it up and be as singularly evil and unpleasant as possible.
Back in March Jason voiced

his hope that he would return to the series.
Starting in July Mr. Isaacs can been seen on the Showtime cable station in the U.S. in Brotherhood

, in which he portrays a gangster from Rhode Island.