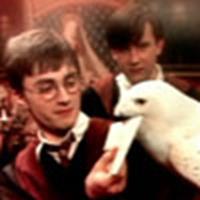 Harry & Neville
Update: Video from 'Potter' skit for Queen's birthday party
June 21, 2006 at 7:46 AM ET
Geri The Leaky Cauldron

daniel radcliffe, dan radcliffe, emma watson, rupert grint, matthew lewis
---
Earlier in the month, we reported

that four of the young actors from the Harry Potter films were set to appear in a video clip to be featured during the Queen's 80th birthday Children's Party

on June 25th.
A commercial recently aired on the BBC in the UK showing a brief clip of their skit, which shows Harry, Ron, Hermione and Neville in the Gryffindor common room.
You can see a list of the guests attending the event here

from the Radio Times.
UPDATE: Screencaps and video of the commercial can be seen here

courtesy of TLC

.