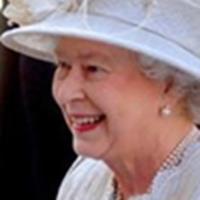 Queen Elizabeth II
'Potter' plot for Queen's 80th celebrations
June 15, 2006 at 1:19 AM ET
eudaemonia Harry Potter Fan Zone (via Warner Bros.)

ron weasley, hermione granger, harry potter, neville longbottom, queen's birthday, queen's 80th event, videoclip
---
As previously reported, four of the young actors from the Harry Potter films are set to appear in a video clip to be featured during the Queen's 80th birthday Children's Party on June 25th. Warner Brothers has released a brief overview

of what to expect during this "whodunit"-segment:
As part of the event, Daniel Radcliffe, Rupert Grint, Emma Watson and Matthew Lewis will appear in character as Harry, Ron, Hermione and Neville in a filmed segment on the Gryffindor common room set recommending a spell for the Palace to use in order to apprehend a thief. It is this spell that ultimately leads to them catching the crook.
The celebration (with video clip) is set to air live from BBC1 on June 25th.