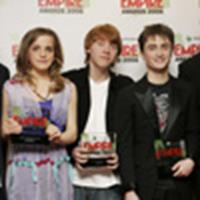 Emma, Rupert & Daniel
'Potter' stars to attend Queen's birthday celebration
June 11, 2006 at 2:06 PM ET
Geri CBBC Newsround

daniel radcliffe, dan radcliffe, emma watson, rupert grint, julie walters
---
A few stars from the Harry Potter movies are scheduled to take part in a play called 'The Queen's Handbag,' which will be part of the Children's Party

at the Palace for the Queen on June 25th.
It is being reported

that stars Daniel Radcliffe, Emma Watson and Rupert Grint will be taking part in a video clip set to air at the party and that Dan will not be attending as we've stated previously.
Thanks to Shannon for letting us know that Julie Walters is also scheduled to appear. The event is scheduled to air on the BBC on June 25th, please check your local listings for times.
UPDATE: You can read additional information on the event here

, which also mentions that Matthew Lewis will be in attendance.