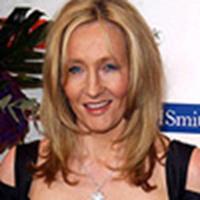 JK Rowling
Some say Rowling is not the 'Greatest Living British Writer'
June 10, 2006 at 8:04 PM ET
Geri HPANA

jk rowling, jo rowling, jkr
---
On Wednesday we Blogcritics

:
For Rowling to be given this accolade above such talented and accomplished writers as Iain Banks, Philip Pullman, and Salman Rushdie is nothing short of outrageous. For her share of the votes to be three times that of Pratchett is downright appalling.
Rowling's prose is deeply unimaginative, when compared to the vast majority of the other authors on this list. Her content is unoriginal, even if she is dismissive of her peers and cites other sources as the inspiration for her work. And she's not exactly the most prolific author in the world.
While Times

online writer Anna Burnside states:
So it came as something of a surprise to discover that readers of The Book Magazine have voted JK Rowling as the greatest living writer in Britain. How can this be? She is no more the greatest living writer in Britain that George Galloway is the greatest living statesman, or Jack Vettriano is the greatest living artist. She is not even the greatest living writer of children's books. She had one good idea that became a formula that she has now worked into the ground.
Thanks to Stuart you can read another scathing piece here

.
Editor's Note: Now this editor asks the question - Can we be wrong? My answer to that question of course would be a resounding NO. Ms. Rowling has entertained millions of readers across the globe, yet when given this title by her fans her writings are called 'unimaginative' and the results of the poll 'depressing.'
Why is it when a writer is chosen by her fans for such a title, we are deemed as not knowing what we are talking about? We, her fans, do not know a good book when we read it, yet we wait breathlessly for the next saga in the series. We mourn and cheer for our favorite characters, we may disagree with a certain storyline, but we will pick up the next book and enjoy it for what it is. Are we to be denied the enjoyment of Rowling's imagination just because some 'writers' deem our choice as wrong?
Why is it that every time Ms. Rowling's achieves an honor there are some who come out of the woodwork to spew the reasons why she shouldn't be given all of these accolades? I cannot really say, but some would guess that sour grapes are a reason, and while they all seem to say that they do not begrudge Ms. Rowling her success, I would have to disagree.
In the end, the opinion of the above mentioned authors are just that, their opinions, and everyone is entitled to their own, even this editor.