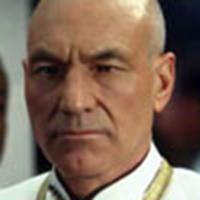 Patrick Stewart
X-Men 3 star wishes he were in 'Potter'
May 23, 2006 at 8:44 AM ET
Cheeser HPANA (via Cannes Film Festival)

patrick stewart, xmen, xmen 3, xmen last stand, xmen the last stand, harry potter
---
Patrick Stewart, who plays Professor Charles Xavier in the X-Men movie series, lamented at a Cannes Film Festival press conference

recently that he hasn't been asked to be in the Harry Potter films.
"Every single actor over 60 in England is in the Harry Potter movies," he replied when asked if he wanted to continue doing fantasy films. "I am still smarting from the fact that Ian McKellen starred in Lord of the Rings and apparently there was no part in it for me."
Prior to the X-Men films, Stewart was best known for his role as Jean-Luc Picard in the television series Star Trek: The Next Generation.
X-Men: The Last Stand opens in theatres this weekend.
Thanks to Angie for the tip!