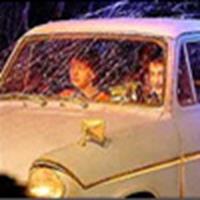 The Ford Anglia
Weasley's Ford found on castle grounds
May 18, 2006 at 8:59 PM ET
Geri Yahoo! News (via The Scotsman)

harry potter and the chamber of secrets, chamber of secrets
---
Last October we told you that the Ford Anglia used in Harry Potter and the Chamber of Secrets had been stolen

from the South West Film Studios in St. Agnes. The car, which has no engine, has now turned up

on the grounds of Carn Brea Castle

in Cornwall.
According to police, they received a tip and thought that it was all a joke. PC Tim Roberts commented:
It seems we have now located the Harry Potter car. We received an anonymous call from someone telling us its location, and it was found in the early evening in an empty car park at Carn Brea Castle.
It seems to be in good order. I would guess whoever left it there did so with their tongue firmly in their cheek. The car had been there less than 24 hours and has now been towed away to a vehicle compound.
No arrests have been made, and the car will probably go back to the insurance company.