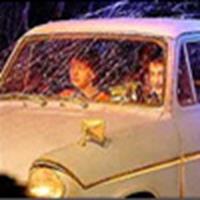 Weasley's Ford Anglia
Weasley's Ford stolen
October 28, 2005 at 8:56 AM ET
Geri Yahoo! News (via BBC News)

harry potter and the chamber of secrets, chamber of secrets,
---
The Ford Anglia used in Harry Potter and the Chamber of Secrets has been stolen from South West Film Studios in St. Agnes. The car, which cannot be driven, must have been moved by trailer according to police.
According to Devon and Cornwall Police spokesman Pc Baxter Provan:
The car was stolen from the film studios at Penwinnick Road in St Agnes between 1730 BST on 26 October and 1615 BST on 27 October.
For those who have not seen the Harry Potter films, this is the car that flies in the movie and is very well known.
It is believed that the vehicle could not have been driven therefore it is suspected that it would have to have been towed or lifted from the scene.
Thanks to everyone who wrote in.