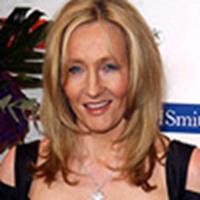 JK Rowling
UK authors lend support to libraries
May 15, 2006 at 7:07 PM ET
Geri The Leaky Cauldron (via The Guardian)

jk rowling, jo rowling, jkr
---
Over 150 authors in the UK, including Harry Potter author JK Rowling, have pledged

to help galvanize support for public libraries and combat their growing image problem. The Love Libraries

campaign will have authors appear in libraries or speak out about the contribution libraries make to public life.
According to the Love Libraries press release

Rowling stated:
C.S. Lewis's World-Between-the-Worlds - that magical, mystical place, hushed and unhurried, where visitors could enter a thousand different worlds by jumping into different pools - always seemed to me to me to be the perfect metaphor for a library. Trips to the library with my mother are, in my memory, even more thrilling than trips to the sweet shop, and when i got my eldest daughter a library card I felt as though I had bought her citizenship of that same fabulous world.
The campaign which kicked-off in March also includes Salman Rushdie, Irvine Welsh, Jacqueline Wilson, Melvyn Bragg, Nick Hornby and Louis Theroux.