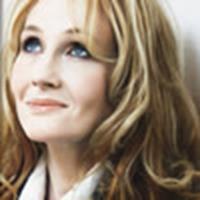 JK Rowling
Rowling on TIME's most influential poll
April 19, 2006 at 7:38 PM ET
Geri The Leaky Cauldron (via TIME)

jk rowling, jo rowling, jkr
---
TIME

magazine is conducting a poll to ask "Who do you think are the most influential people of this year?"
This week's poll (week 4) is for 'Artists & Entertainers,' and Harry Potter author JK Rowling is included among actors George Clooney, Philip Seymour Hoffman, Clint Eastwood and Zhang Ziyi, director Ang Lee, political commentator Jon Stewart and singers Kanye West, Rain and Daddy Yankee.
Currently director Ang Lee has the most votes followed by actor Clint Eastwood. You can go here

to vote.