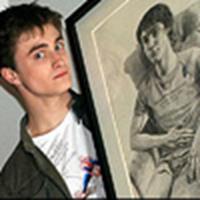 Daniel with his portrait
Update: Radcliffe portrait added to gallery
April 11, 2006 at 8:06 PM ET
Geri Yahoo! News (via BBC News)

daniel radcliffe, stuart pearson wright, national portrait gallery
---
Stuart Pearson Wright, who last year created the three-dimensional portrait of Harry Potter author JK Rowling has added actor Daniel Radcliffe

to his collection of work. Daniel's portrait, as well as nine others, will be unveiled

at London's National Theatre on Wednesday evening before moving to the permanent display at the National Portrait Gallery. Daniel becomes one of the youngest sitters for an individual portrait in the National Portrait Gallery.
UPDATE: Hi-res photos, courtesy MuggleNet:
Daniel, who was 14 when he posed, had this to say about the experience:
I love it. Until recently, I'd seen a peek of it in the catalogue, but not actually seen the real thing. It was strange seeing myself as I was two years ago, not as I am now. If you look at each individual part of my face they look exactly like part of my face. Together it's surreal. It's a great honour to be in there among such amazing actors and actresses.
Additional portraits of fellow Potter actors Alan Rickman

and Timothy Spall

will also be showing at the National Portrait Gallery.
The Daily Telegraph also has a report here

, thanks Page

.
UPDATE: Thanks to Page

and Jenna

for letting us know that you can view the portrait at their respective sites - thanks guys.
Thanks to Nicki for letting us know of another article

about the portrait in which the artist discusses working with Dan.