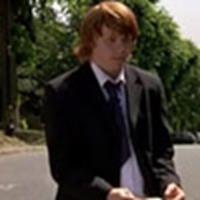 Rupert - Driving Lessons
Snippet of Rupert's film "Driving Lessons"
April 9, 2006 at 6:23 PM ET
Geri HPANA (via News Tip)

rupert grint, julie walters, driving lessons
---
Last month we told you that Harry Potter actors Julie Walters

and Rupert Grint's

film Driving Lessons

would be screened at this year's Tribeca Film Festival in New York, which runs from April 5th through May 7th. You can now see a snippet

from the film on the festival's web site.
The synopsis of the film reads:
Ben (Rupert Grint) is a shy teenager living in London and trying to escape from the clutches of his religious mother (Laura Linney). He finally gets his chance when he meets a retired actress who whisks him off to Edinburgh, where he learns to drive, dance, and pick up girls. Brock's loosely autobiographical coming-of-age tale is a heartwarming treat.
The movie will be showing on April 30th, May 1st and May 6th, with tickets costing $12 each. Please go here

to book your tickets or to read additional information about the festival.
Thanks to ICM

for the link via Regan.