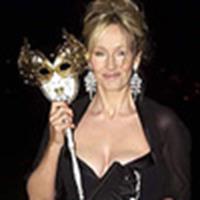 JK rowling
Rowling's masquerade ball helps raise cash for MS
March 20, 2006 at 11:16 AM ET
Geri HPANA (via Various)

jk rowling, jo rowling, jkr, patron of ms society of scotland, ms society of scotland
---
Harry Potter author, JK Rowling, patron of the MS Society of Scotland

held a masked ball at Stirling Castle on Friday night and helped raise

£200,000 ($351,060) from the event

.
The ball included an auction with a diamond necklace donated by the author, a chance to become a hero or villain in Ian Rankin's next Rebus novel and a treasure hunt, with the clues written by Rowling. Among the many guests to attend was actor Robbie Coltrane.
You can view 3 pictures of the event here

courtesy of WireImage and thanks to everyone who wrote in about the event.