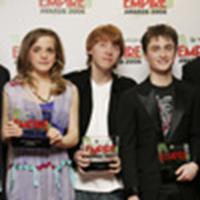 Emma, Rupert & Dan at Empire Awards
Potter trio & Heyman appear at Empire Awards
March 13, 2006 at 4:53 PM ET
Geri HPANA (via Empire Online)

harry potter, daniel radcliffe, dan radciffe, emma watson, rupert grint, david heyman, empire awards
---
Even though Harry Potter and the Goblet of Fire didn't win any accolades at tonight's Empire Awards

in London, the series did win an honorary award for their contribution to cinema.
Goblet of Fire had been nominated

in the Best Sci-fi/Fantasy and the Best British Movie categories but lost to Star Wars Episode III: Revenge Of The Sith and Pride & Prejudice.
In attendance to pick up the award was Daniel Radcliffe, Rupert Grint, Emma Watson and Harry Potter producer David Heyman. Also in attendance was Jason Isaacs, David Tennant, Robert Pattinson and James and Oliver Phelps, you can see some pictures here

courtesy of Film Magic.
We will update with pictures shortly but for now you can view some here

courtesy of Getty Images and here

from Wire Image.
UPDATE: Thanks to Page from DR.co.uk

you can see the high-res pictures here

.
UPDATE II: Thanks to Fred for sending over some additional images which you can see here

.