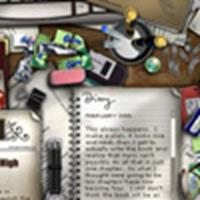 Changes on Rowling's site
Lots of interesting changes on Rowling's site
March 9, 2006 at 8:54 AM ET
Geri HPANA (via JKRowling.com)

jk rowling, jo rowling, jkr
---
JK Rowling has updated her web site

with some new and interesting things for fans to rummage around and find. Enjoy.
Just a little tidbit from Krista who emailed:
The butterfly is orange now (not blue) port keys have changed. The links is eyeglasses not a pen. Rubbish Bin is a pencil sharpener, not a wrapper. The Room of Requirement is an eraser now and when you go in there are 2 potions (red and green) that you can drip into a plant. When the site up loads there is a chapter list (the other minister, spinners end etc.) check it out.
Thanks to everyone who emailed.