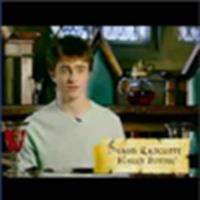 'GoF' DVD podcast
New updated podcast from Warner Bros. on 'GoF' DVD
March 3, 2006 at 8:13 PM ET
Geri HPANA (via News Tip)

harry potter and the goblet of fire dvd, goblet of fire dvd
---
Last week we told

that Warner Bros. had released an official podcast on the Harry Potter and the Goblet of Fire DVD on iTunes. They have now added part 2 of their three-part interview with the stars of the movie.
This part of the interview consists of the trio discussing who is really like their characters in the movies and would seem to be included in the DVD.
You can view a previously seen video as well as listen to the interview through iTunes by going here

.
Thanks to everyone who let me know about the update and part 3 will be released on March 10th.