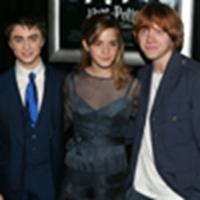 Dan, Emma & Rupert
New interview with trio
March 2, 2006 at 9:07 PM ET
Geri Veritaserum

harry potter and the order of the phoenix, order of the phoenix, harry potter and the half-blood prince, half-blood prince, emma watson, rupert grint, david heyman, daniel radcliffe, dan radcliffe
---
In a recent interview with Harry Potter stars Dan discusses Order of the Phoenix and the sixth book, while Emma and Rupert discuss their characters as well as how they feel about rumors of them leaving the series:
DVD Review: Do you ever worry about reading each new Potter book in case you don't like it?
Dan: When the sixth book came out, if it hadn't been good, I would have thought, "Oh, that's disappointing, do I really want to do this?" But I read the book and really enjoyed it, so the idea of being in the film isn't daunting, it's exciting.
DVD Review: What are you looking forward to most in the next film?
Dan: All the teaching stuff, when Harry forms the DA. I think that's all really interesting and heroic, but understated heroic stuff. And what I think is really fantastic about the fifth one is Harry's relationships with Neville Longbottom and Sirius Black. Particularly Neville, because they have so much in common and they don't know it.
DVD Review: Do you feel you're becoming more or less like your characters as the films go on?
Rupert: We've all been together for so long and worked together for so long, we don't have to act at being friends because we all are.
Emma: I remember, during the first two films particularly, denying very strong that I was even close to Hermione's character. But after the third one and particularly now I'm thinking that she might not be such a bad role model. So actually I don't mind too much.
Rupert: Ron and me have both got ginger hair and I'm quite scared of spiders. Stupid things like that.

DVD Review:There are constant rumours that each film will be your last. Are you happy to do more?
Rupert: I've just finished school so I've got nothing else to do...
Emma: What I would say about working on the Harry Potter films is that every day is different and every set is different, and you do learn something new every day. And there are always new actors. I feel that it's still challenging me, definitely.
You can view scans of the magazine article with additional interviews with David Heyman here

courtesy of HP Graphics

via VTM

.