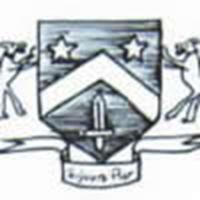 Black Family Tree Crest
Additional details of Rowling's Black Family Tree
February 20, 2006 at 9:45 PM ET
eudaemonia The Leaky Cauldron (via HP Lexicon)

ootp, harry potter and the order of the phoenix, black family, sirius black tree, charity
---
Tonight in London, the Black Family Tree that Harry Potter author JK Rowling sketched and donated to Book Aid International was on display for the public to preview before tomorrow's auction. A report by a fan who attended the preview is now available online, with additional names and details that were previously withheld.
Here's a tidbit of the fan report regarding those seven names that were burned-off -- the "black sheep", as mentioned in Order of the Phoenix (numbered to match with those marks on this image of the tree):
(Phineus' youngest sibling) Isla Black, who 'married muggle Bob Hitchens'. I thought immediately of Bob Hoskins, and concluded he was Cockney!
(Phineus' 2nd child) another Phineus, who 'supported muggle rights'
(Dorea's brother) Marius, 'a squib'. That really cut me up, it's hard to explain, what a life for him - not!
This you'll love: Callidora and Charis' sister: Cedrella, who 'married Septimus Weasley'. She'd have been born around 1918, so Septimus is probably an uncle of Arthur, and of course a 7th son. She was struck off just for marrying a blood traitor Weasley.
Alphard, who 'gave gold to his runaway nephew'
Sirius, who 'ran away'
Andromeda, who 'married muggle Ted Tonks'
The fan report, with a full listing of the other members of the Black family, is now available at HP Lexicon

. For additional information regarding tomorrow's auction of this JK Rowling sketch, please visit Bloomsbury Auctions.