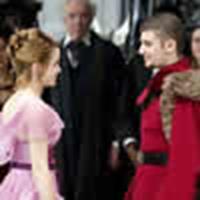 Hermione and Viktor at the Yule Ball
'Goblet' of movie stills, behind-the-scene images
February 9, 2006 at 3:01 PM ET
eudaemonia HPANA (via Snitch Seeker/Ice Cream Man)

goblet of fire, goblet of fire movie, movie 4, gof, gof movie, photograph, pictures, pics
---
Many stills and some behind-the-scenes photos from the movie Harry Potter and the Goblet of Fire have emerged on the web, courtesy of Snitch Seeker

and Ice Cream Man

. Some may be old and some may be new to you, but either way it's a feast for the eyes to tide you over until the release of the DVD next month.
You can check them out here

, here

or here

, and enjoy!
Thanks to Oliver for the tip.