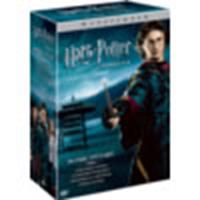 8-disc edition of years 1-4
UPDATE: Official 'GoF' DVD cover art, trailer, release date
January 11, 2006 at 11:20 AM ET
eudaemonia HPANA (via Various)

goblet of fire, goblet of fire movie, movie 4, gof, gof movie, d.v.d.
---
Straight from WB's vault, a trailer for the Harry Potter and the Goblet of Fire DVD is now available online, showing scenes confirming the previously rumoured features and also revealing the release date: March 7, 2006. You can check out the streaming video, which show teasers of cast interviews, never-before-seen footage, and special effect shots (such as how they rid Ralph Fiennes of his nose) at the following:
Additionally, cover art for an 8-disc box DVD edition of movies 1-4 can be found here

, which also confirms the cover art for the single and 2-disc deluxe editions previously reported.
Thanks to MoviesOnline and TLC.
UPDATE: MoviesOnline has also kindly posted the back cover art, if you want to take a closer look: single edition

, 2-disc edition

, and years 1-4 box edition

.
Also since the release is less than two months away, did you order your copy yet? Well, you can now -- advance orders are being accepted through Warner Home Video's online store. You can visit their store at the following:
Single-Disc Edition: Full Screen

| Widescreen

| UMD (PSP) Widescreen

Deluxe Double-Disc Edition: Widescreen

Years 1-4 Box Edition: Widescreen