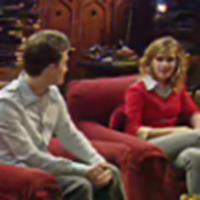 Daniel and Emma
New video on Amazon: 'Goblet' cast talks movies 5 and 6
February 6, 2006 at 3:46 PM ET
Cheeser HPANA (via Amazon)

harry potter and the order of the phoenix
---
Amazon has posted another exclusive sneak-peek at video

that will likely be included on the Harry Potter and the Goblet of Fire DVDs. This one has the cast talking about scenes they "can't wait to film" for movies five and six.
Dan Radcliffe (Harry himself) says he's looking forward to kissing Cho Chang and filming the Dumbledore's Army "stuff". Emma Watson (Hermione Granger), Rupert Grint (Ron Weasley) and Radcliffe are interviewed together by what appears to be a group of fans.
Principal photography on Order of the Phoenix began today in England. The film, fifth in the series of seven, will be released in 2007.