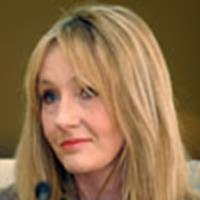 JK Rowling
Rowling to attend Queen's birthday celebrations
February 1, 2006 at 2:22 PM ET
Geri BBC

jk rowling, jo rowling
---
Harry Potter author JK Rowling and children characters Paddington Bear, Mowgli from the Jungle Book and Winnie the Pooh will help Queen Elizabeth celebrate

her 80th birthday in June. The party celebrations will include three thousand children as guests and take place on Sunday, June 25th at Buckingham Palace.
Jo had to this to say about the invitation:
I can think of no better way to mark the Queen's 80th birthday than with a party for children at the Palace with some of the best loved characters from children's literature. Harry and I are very much looking forward to attending, particularly as we understand that, despite his alleged membership of the aristocracy, Lord Voldemort has not been invited.
Children between four and 14 in the UK can apply for tickets online

at CBBC Newsround and those who win will get three tickets each so they can take a friend or sibling and an adult.