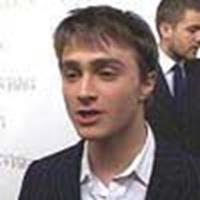 Daniel Radcliffe
Dan picks movie award winners
January 31, 2006 at 7:35 AM ET
Geri HPANA (via itv.com)

daniel radcliffe, dan radcliffe
---
During this past weekends South Bank Show awards

, Harry Potter actor Daniel Radcliffe gave his suggestions as to which movies will win big during this awards season.
Dan has tapped

Capote and The Constant Gardener to win big and contrary to his statement I doubt he will be attending any ceremonies in the U.S. due to filming commitments - this is probably a misquote.
UPDATE: Thanks to Page over at DR.co.uk

for letting me know that she has confirmed with his representative this morning that Dan will NOT be at the Oscars as the article suggests.