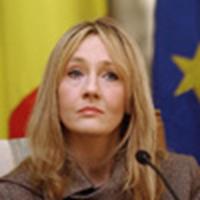 Ms. Rowling during press conference
Videos from Rowling's trip to Romania
January 27, 2006 at 1:07 PM ET
Geri HPANA (via News Tip)

jk rowling
---
Some videos of Harry Potter author JK Rowling's trip to Romania are online. The videos include TVR1's segment on her arrival, her bidding on a signed shirt at the fundraiser, a small montage of her visit which appeared during the fundraiser, and a Scotland Today report on her arrival and visit.
You can see all the videos here

courtesy of Into the Pensieve

, thanks Charlie.
You can also see some screen caps here

courtesy of Lumus.hu

, thanks Paul.