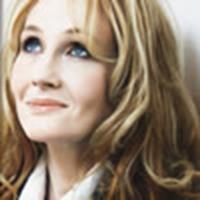 JK Rowling
Rowling mentions Bucharest visit & book 7
January 25, 2006 at 6:57 AM ET
Geri HPANA (via JKRowling.com)

jk rowling's web site, jo rowling, jk rowling
---
Harry Potter author JK Rowling has updated her diary and news section on her web site. In the news, she mentions that she will be in Bucharest today and tomorrow to help launch the Children's High Level Group, of which she recently became a member. She also mentions how writing book 7 is going.
You can read her diary entry here

& the news section here

.
Thanks to everyone who let us know.
UPDATE: Video from Rowling's first appearance in Bucharest is surfacing. You can see a few glimpses of her in this RealPlayer streaming clip, if you skip ahead to 44:56. It's not in English and we have no translation, but Rowling can be heard saying she's very excited about her involvement.
UPDATE II: Thanks to Jan for letting us know that the interview with Ms. Rowling will be broadcast

on Romanian tv1 on Thursday, January 26th at 8 pm (1 pm ET).