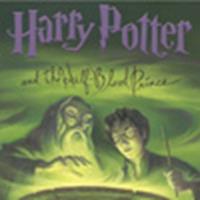 'Half-Blood Prince'
'HBP' best-selling book of 2005; review of audio version
January 8, 2006 at 9:12 PM ET
Geri HPANA (via BBC News)

harry potter and the half-blood prince, half-blood prince, book 6
---
The number one selling

book in the U.S. for 2005 was Harry Potter and the Half-Blood Prince. The book sold 7.2 million copies throughout 2005 and its first day's sales totaling 4.1 million outsold other books' yearly totals.
In other news, a review

of the audio version describes Stephen Fry as:
Fry reads Harry Potter with wonderful elan and if you're feeling snooty about Rowling's prose style you'll find the whole thing transfigured in his hands because he brings out all the strength and verve of her dialogue. There's a silvery old sage voice for Dumbledore, a pretty exact fit for Alan Rickman's Snape and a superbly spot-lit way of distinguishing the characters with the glide of the voice so that you see them running breathless down sinister corridors or soaring with excitement as they play quidditch.
The latest Rowling, Harry Potter and the Half-Blood Prince, is a monster in size and Fry's reading of it lasts for 21 hours, so it will keep you going on the longest of trips.