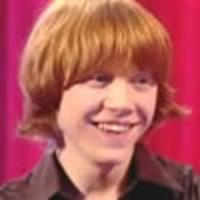 Rupert on 'Generation Fame'
Report, video & images of Rupert on 'Generation Fame'
December 31, 2005 at 4:33 PM ET
eudaemonia HPANA (via News Tips)

ron, ron weasley, ronald, weasley, rupe, rupert, grint, bbc1, bbc 1, tv, gameshow, television
---
As previously reported, Rupert Grint (who is Ronald Weasley in the Harry Potter movies) would be appearing on the BBC One

New Year special, Generation Fame, a celebrity game show hosted by Graham Norton. The show has recently aired and with his grandfather, Chris, Rupert showed off his dancing/skipping (double dutch) skills and attempted to create a teapot to win a celebrity competition:
Fan report

, courtesy of RGMS.Org
Video

& Screen Captures

, courtesy of RG.Net
Thanks to Lee and Siobhan for the tip!
Update: Link is now updated to RG.Net's media section (for the late viewers). Enjoy!