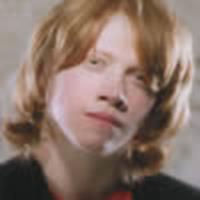 Rupert Grint
Rupert to appear in 'Generation Fame'
December 11, 2005 at 1:58 AM ET
eudaemonia HPANA (via RupertGrint.net)

ron, ron weasley, ronald, weasley, rupe, rupert, grint, bbc1, bbc 1, tv, gameshow, television
---
Rupert Grint

fans in the UK will have a chance to catch the actor (a.k.a. Ronald Weasley in the Harry Potter films) in Generation Fame, a celebrity spin of The Generation Game UK game show. Hosted by Graham Norton, the show was taped this past week and is set to air on New Year's Day on BBC One.
An article according to The Mirror

indicate that Rupert, along with his granddad Chris, was one of the celebrity competitors. Additionally, there is a recount from an audience member who attended the taping, confirming the actor's appearance (although he states that Rupert's dad was there instead).
Actual time(s) of when the show will air is currently unknown. We'll keep you posted.