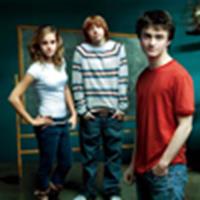 Potter trio
Potter No. 9 on EW's '2005 Entertainers of the Year' list
December 23, 2005 at 3:34 PM ET
Geri HPANA (via Entertainment Weekly)

harry potter and the goblet of fire, goblet of fire, harry potter and the half-blood prince, half-blood prince
---
Earlier this week we told you

that Half-Blood Prince and Goblet of Fire had topped their respective categories in Entertainment Weekly's Best of 2005 poll. We can now add that Harry Potter has landed

at the number 9 spot on their 2005 Entertainers of the Year list.
EW states:
That Potter should continue to flourish as a publishing phenomenon is no shocker. What is surprising, however, is Harry's ongoing vitality as a movie star: Goblet -- which posted the fourth-biggest weekend of all time with $102 million -- has already surpassed the $249 million gross of the third film. Building on the bold nerve of predecessor Alfonso Cuarón, director Mike Newell conjured a vision of a hormonally charged teen wizard that engaged all demos. (Could it be? A Movie Harry actually deemed cool?!) For Potter screenwriter Steve Kloves, the secret is simple: Daniel Radcliffe, Emma Watson, and Rupert Grint. The stars' on-screen maturation, he believes, has become a compelling story unto itself. 'People are fascinated with seeing them grow up and change,' he says. 'They are the heartbeat of this franchise.' And this year, that pulse has never been stronger.
UPDATE: Thanks to Stephanie from RupertGrint.net

you can see scans of the cover

, the trio

and the article

, as well as find the sixth book, Harry Potter and the Half-Blood Prince, landing at the number 7 position on the best fictional books list

of 2005.