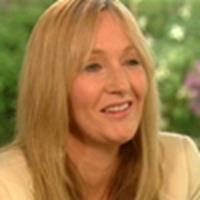 JK Rowling
Rowling 'TIME For Kids - Person of the Year'
December 18, 2005 at 1:27 AM ET
Geri MuggleNet (via Time for Kids)

jk rowling, harry potter, jo rowling
---
TIME For Kids has chosen Harry Potter author JK Rowling as their Person of the Year for 2005.
Ms. Rowling beat out Lance Armstrong, ordinary heroes (from the tsunami, hurricane Katrina and the earthquake that effected Afghanistan, India and Pakistan) and the Chicago White Sox.
Rowling missed out on being TIME magazine's Person of the Year for 2005. That honor went to Bill and Melinda Gates and Bono from U2 for their tireless fight against AIDS and global poverty.