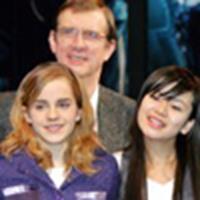 Emma Watson, Mike Newell & Katie Leung
Photos & video from 'GoF' Tokyo press conference
November 18, 2005 at 10:27 AM ET
Geri HPANA

harry potter and the goblet of fire, goblet of fire, emma watson, katie leung, robert pattinson, david heyman, mike newell
---
Last night we showed you some video

of Harry Potter stars Emma Watson (Hermione) and Robert Pattinson (Cedric) arriving in Tokyo for the premiere tomorrow. Images have now started to appear online from the Harry Potter and the Goblet of Fire press conference, and no Rupert was not in attendance.
Getty Images


Yahoo News

interview with Mike Newell
Film Magic


WireImage

Thanks to UHP

for the tip.
UPDATE: Thanks to DR.co.uk

you can now see video from the press conference here

.
Update II: Thanks to Stephany from Robert Pattinson Online

you can see addtional pictures here

.