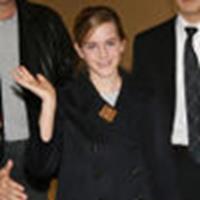 Emma arriving in Tokyo
Video of Emma & Robert arriving in Tokyo for premiere
November 17, 2005 at 8:48 PM ET
Geri HPANA (via News Tip)

harry potter and the goblet of fire, goblet of fire
---
A few weeks ago we told you that Harry Potter director Mike Newell, producer David Heyman, Rupert Grint, Katie Leung and Robert Pattinson would be attending the Tokyo premiere of Harry Potter and the Goblet of Fire on November 19th. We now have video of Emma and Robert arriving in Tokyo, we don't know if Rupert will still be attending.
Thanks to Carol (via Page

) for the clip, which you can view here

in Windows Media.