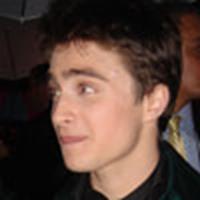 Daniel Radcliffe
HPANA's London/New York 'Goblet of Fire' mega-report
November 17, 2005 at 10:12 PM ET
Cheeser HPANA

harry potter and the goblet of fire
---
We were on the red carpet in London and New York this month to witness the birth of the latest Harry Potter film and have finally put together some of our thoughts, pictures, videos and interviews from the past two weeks. In a word: wicked.
London
First up is London, courtesy Anna Hight, who we sent to the world premiere:
It made sense, really, when you thought about it. There was a fire-breathing Hungarian Horntail, we were all soaking wet, and Leicester Square resembled a maze. At the head of it all glowed the Tri-Wizard Cup.
All was suddenly clear. This was no film premiere! This was, in fact, the Tri-Wizard Tournament! Watch your feet for snakes, now!
Like Harry, I wasn't actually meant to be there, but good timing meant that I was to stand with the press for the world premiere of Harry Potter and the Goblet of Fire, in London. It was a cold and soggy (typical) Sunday in November, and the entire square was jam-packed with Potter fans, media and the aforementioned dragon. The Hungarian Horntail spat fire at passers by and earned a goodly amount of press on its own. Flags for the three schools hung sodden from the trees over our heads, steam rose from the floodlights scattered everywhere, and many an eye was poked by the corner of a well-meaning umbrella.
Not exactly the sort of glamourous situation one imagines when asked to attend an enormous film premiere!
My day actually began several hours earlier at a screening of the film itself. First impressions are that it is well-crafted, particularly for a complicated book such as Goblet of Fire. The pace is very fast, sort of blink-and-you'll-miss-it, but the acting is strong - particularly from the Trio. Emma Watson seems much more comfortable, more natural in front of the camera, and Rupert is so effortlessly believable. His Ron Weasley is perfectly sullen and jealous, and ever so awkward.
And Dan Radcliffe has come a long way, and is shaping up to be a major talent in his adult career. He broke my heart at the end of the film, and I advise all to bring Kleenex when you go to see it.
After the screening it was off to Leicester Square. The media were all to be round up and put into pens (baa) in the afternoon. I was directed into the 'Fanzine' section, which sounds slightly derogatory to be honest. 'Online media' might have been more accurate, as it was HPANA alongside Veritaserum, TLC, MuggleNet and DanRadcliffe.com. 'The Geek Squad,' to be certain. All your Potter nerds are belong to us!
It rained off and on, rather determinedly, until darkness began to fall. The first to arrive was Pedja Bjelac, better known as Igor Karkaroff. He is very tall and very soft-spoken, and looked slightly bewildered by the spectacle of the premiere. When asked whether it was a daunting task to take on a character in something so lasting as one from Harry Potter, knowing that he will be forever associated with this character, he remarked, "I don't think so. That's why they chose me!"
Next up were Afshan Azad (Padma Patil), and a stunning Clémence Poésy (Fleur Delacour), and Robert Pattinson (Cedric Diggory). What was lovely about the experience was that we (the Geek Squad) had our own PR person whose job it was to bring people to us, so as soon as they came in they were led to our little corner of things. It did not give one much time to think up good, profound questions, but it did provide for some nice photo opportunities.
Mike Newell, the director, expressed emphatic interest in returning for the sixth film. We were then joined by Devon Murray, who was very energetic and friendly, very open and when he came for us he looked as if he wanted to chuck the whole affair and hang out for a bit. He seemed very laid-back, much like his character.
I absolutely did not expect a chance to speak to Dan Radcliffe, but suddenly there he was. The boy was nearly vibrating with energy, answering questions enthusiastically and mostly with his hands waving about as if he thought he might try to fly. He bounded (literally!) up to us, hopped around a bit, took a drink of water and attacked questions with a vigor I hope he never, ever loses.
I asked him if there had been anything in the script that he looked at and thought, Wow, that's going to be horrible or humiliating, I don't think I can do that. Dan replies:
"I've lost all inhibitions now. I'm shameless! That sort of stuff doesn't bother me particularly anymore. I'm fine with that, now!"
After Dan trotted on down the queue, we were treated to a radiant Bonnie Wright (Ginny Weasley) who looked quite mature and fully capable of pulling off Books 5 and 6 (something that had begun to worry me after seeing Goblet because they don't seem to be letting her age as they have the others). She confirmed that she would be back for the next film. Following Bonnie was Warwick Davis (Flitwick), and the Willow fangirl within might have squealed a bit at that.
Then came the Phelps twins, Jamie and Oliver. When asked how much of their bit is scripted and how much is ad-libbed, they admitted that while most is scripted there's a fair bit that is just the two of them goofing about. They added that whenever things go wrong on set, they tend to be blamed for it. A bit of typecasting there, boys? They looked nothing like their Weasley counterparts, having gone brunet since. They looked like they might have been moonlighting in a Beatles tribute band.
I asked Tom Felton the same question I'd given Dan: anything humiliating you weren't so keen to film? Tom explained that in the original script for the infamous ferret scene, Draco was meant to lose his clothes after he turned back into himself, and then run off naked. The idea was scrapped (and legions of fangirls the world over wail in protest), because Tom wasn't too thrilled about the idea of being naked, especially since it was rather cold during filming!
"That'd have meant a whole new rating for the film," I said. Tom laughed. "At least a fifteen!" he replied.
No Rupert love, unfortunately he skipped our bit of the queue thanks to his handler, though I did manage a couple of nice photos. Robbie Coltrane (Hagrid), and Matthew Lewis were next, with Matthew being very cheerful and sweet. He certainly has begun to grow into himself, in both reality and in the film - Neville had some of the most memorable moments in Goblet, and he's become quite an entertaining actor. He will be brilliant in Phoenix.
The most memorable moment for me tonight happened while speaking to Emma Watson. She had turned to listen to my question when her handler tapped her on the shoulder and pointed discreetly behind her. Madonna was passing by, and Emma went absolutely white. She giggled and flailed. "Oh my God, it's Madonna." For a moment she wasn't a movie star, but a typical fifteen-year-old girl in the presence of a pop idol. She flitted about a bit, wibbled muchly and then grinned at us, slightly sheepishly, and apologised for her little outburst. It was really rather sweet.
And of course, I gave her the same question as Dan and Tom. "I think I'm a little bit past that now," she said. "I think after four years, you get a little bit used to it."
To follow would be Mark Williams (Arthur Weasley), who looked absolutely splendid in an outfit that would have made his fictional counterpart very proud: blue suit jacket, pink shirt and a polka-dot bow tie. He was extremely friendly and an excellent speaker, going into fantastic detail about the effects surrounding the Portkey scene before the Quidditch cup. Katie Leung looked absolutely beautiful and was endearingly Scottish. She would be the last person for us, though Dan did scamper by to sign autographs for a few people down the queue from us, and to post for photographers in front of the Horntail. He was still smiling, after over an hour of press and wandering about in the dreary weather (and he made a point of going to talk and sign for the masses of fans packed in around the square, many of whom had been there overnight), as he went into the theatre.
The boy has an incredible amount of class for someone his age. Please, let him keep it.
And that was the end of it! Everyone was fairly eager to clear out, find the nearest toilet and/or Starbucks, and generally escape the misery of England in November. I know I was, being a native Californian! All in all, it was a complete circus and quite bleary at the start, though having other folks from fellow fansites around helped make it bearable. A wonderful experience and while I wish I could have been more prepared, with better equipment and thoughtful questions, I think it all went rather well! Time for tea and dry clothes, to hopefully fight off the inevitable pneumonia.
Thanks to Jeff for the opportunity to do this, and thanks to Warner Bros. for organising the thing, and treating us as they did everyone else in the pens, and making sure we got our five minutes.
New York
First, check out our exclusive photos and videos (all Quicktime format):
Video interview with Daniel Radcliffe


Video interview with David Heyman


Video interview with Mike Newell


Video interview with Katie Leung


Pictures, pictures, pictures!

Here are my thoughts on the film (spoiler-free):
Harry, Hermione, Hedwig and the rest of Hogwarts are back.
It's possible the fourth film in Warner Bros.' adaptations of JK Rowling's Harry Potter series could be considered the best yet.
When director Mike Newell said he was making Harry Potter and the Goblet of Fire a classic action/thriller, he must have been on a strong dose of veritaserum. The movie drives with near-perfect pace (some might even say a little too fast), delivering a polished, purposeful production.
Daniel Radcliffe, at 16, has literally grown up on the big screen with his character, Harry. His cohorts Emma Watson (Hermione Granger) and Rupert Grint (Ron Weasley) have also matured, and give a devoted audience their most emotional performances yet.
Newcomer Brendan Gleeson (Mad-Eye Moody) steals every scene he's in, but gives the actors around him a great chance to shine. Fellow inductee Robert Pattinson plays an excellent Cedric Diggory, making that character's demise ultimately more heartbreaking.
The special effects in this round are truly breathtaking. The Triwizard Tournament tasks are inarguably the most adrenaline-pumping parts of the film and highlight Newell's and screenwriter Steve Kloves' skillful chopping of the original material down to a manageable core.
While some think it could've done with a bit more Malfoy, the film is ultimately a hit. Just be sure to get your tissues out near the end, as there was nary a dry eye at the star-studded U.S. premiere.
Read Geri's review here

(spoilers!). Stay tuned for more pictures as soon as I get back from New York.