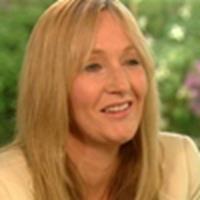 J.K. Rowling
Will J.K. Rowling be TIME's 'Person of the Year'?
November 15, 2005 at 8:03 PM ET
Geri The Leaky Cauldron (via Time Magazine)

jk rowling, harry potter
---
It's time again for TIME

magazine to choose an individual as their Person of the Year. The award is given to "...a person or persons who most affected the news and our lives, for good or for ill, and embodied what was important about the year."
This year Harry Potter author J.K. Rowling is listed with Bono, Steve Jobs, The Google Guys, Lance Armstrong, and Mother Nature. You can cast a vote for Ms. Rowling here, the results will be revealed December 18th.